After independence Indian constitution identified two groups Scheduled Castes and Scheduled Tribes as the only two groups under Indian constitution that may be treated differently than rest of the people. All people are equal but some are more equal. Now, we can all argue that this was not a principled thing to do but at that time India did have lot of people who lived in forests and remotest places and were disconnected from the progress rest of the world had made. In a fully government controlled economy like post Independent India there was no hope for these people.
Over years various population groups realized that if they could same constitutional "more than equal" status they will benefit immensely. So they created not well defined groups such as OBCs, Dalits and more recently minorities. Now each of these groups want to use coercive power of the state for their narrow benefits. We all know the aftermath of OBC reservations and mandal commission.
If everyone else is getting the same benefits as SC/STs clearly it is harder to appeal to these groups for votes. Congress government in its desperation created this law very consistent with their usual practice of offering sectarian and legally discriminating benefits. SC/ST atrocities prevention act in short insists that when a person belonging to SC/ST files an FIR, the FIR must always be registered without conducting any investigation and the person it is directed to, must be arrest first. This is in violation of basic principles of law where the police are supposed to use their judgement in making the call to arrest the person.
This law is so heavily misused that Indian courts sent this law to Modi government for a review and requested that this law must be amended with some basic sanity checks in place to avoid misuse. However, Modi government refused to make such changes and instead doubled down on promoting this law as their own achievement.
So far we have seen hundreds of cases filed under this law and many folks being jailed. People file cases for offensive statements on twitter and offensive private conversations.
There has also been concern regarding misuse of the act for settling of personal scores. 75% cases were found to be false in Madhya Pradesh in a survey. 81% cases under SC/ST Atrocities Act were registered against persons from OBC section, 14% upper castes and 5 percent minorities sections. A man in UP had to spend 20 years in prison after being implicated in a false case under the provisions of this act. [source]
According to the National Crime Records Bureau, in 2019, a total of 49,608 such cases were registered under the Scheduled Castes and Scheduled Tribes (Prevention of Atrocities) Act in conjunction with IPC, while 44,505 cases were registered in 2018 and 50,094 cases in 2017. However conviction rates were only 30%.
Check this news item that turns what could have been an assault on government employee into an SC/ST atrocity.
Mr. Gopalsamy was booked under provisions of the Scheduled Caste Scheduled Tribe (Prevention of Atrocities) Act and the IPC on August 8, after a video of the VA, a Dalit, falling at his feet and apologizing at the village office went viral. He was also booked on charges of preventing the VA and VAO from discharging their duty.

A week later, a second video which surfaced, showed Mr. Muthusamy assaulting Mr. Gopalsamy at the village office. People supporting Mr. Gopalsamy had claimed that the VA fell at the feet of Mr. Gopalsamy and apologized for having assaulted him. According to them, the VA later alleged that Mr. Gopalsamy forced him to fall at his feet and made casteist remarks against him, fearing legal action for the assault.

On Tuesday, the Annur police booked Mr. Muthusamy for the assault on Mr. Gopalsamy.

Representatives of the farmers association alleged that Coimbatore District Police failed to conduct a proper investigation into the incidents that took place at the Ottarpalayam village office on August 6 and they misused provisions of the SC/ST Act by booking Mr. Gopalsamy.

The association wanted authorities to withdraw the cases against Mr. Gopalsamy, arrest the VA and the VAO, and dismiss them from service. The two officials were placed under suspension by Coimbatore District Collector on Tuesday.
There are instances where his law has been used to arrest children as old as 12.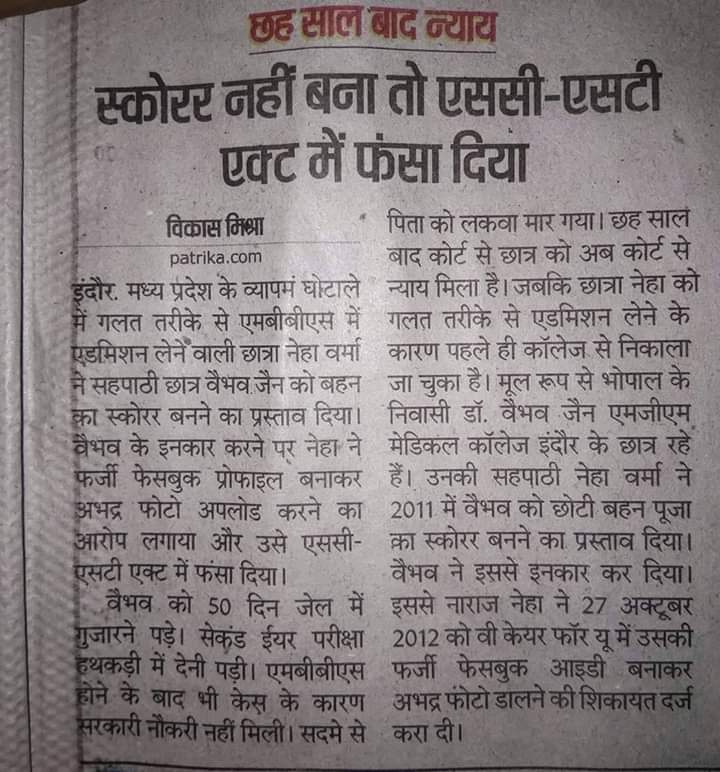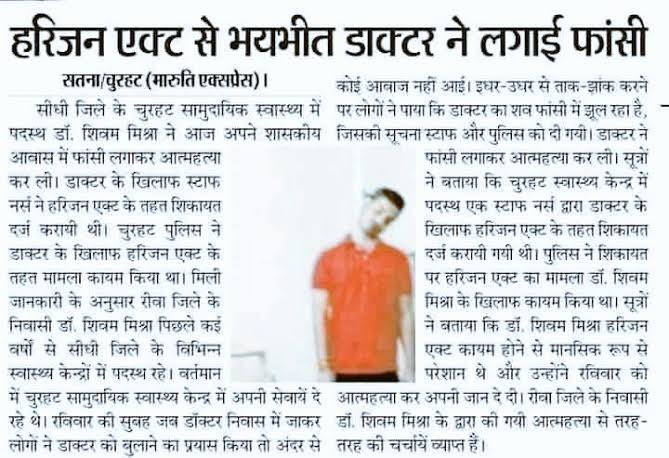 Interesting are the times in India where a temple does not ask for anyone's caste but the Indian government is obsessed with caste and treating people differently based on their caste, in some cases very very differently.
Note : 
Atrocities against weaker sections of society are a real problem in India and the state must do everything to help and encourage the victims to speak up get justice. But SC/ST act does not do that and instead increases caste based violence in society. Non SC/ST run businesses might be scared of hiring SC/ST employees or an employee with SC/ST boss might be scared for retaliation.
Government could have very easily identified specific narrow instances of atrocities and ask the police to treat them with higher importance irrespective of caste.